Discover Ashland Passport Program
Learn about the great businesses in Ashland, Nebraska
Learn and Earn! Just visit local businesses in the Ashland area and you'll reap the rewards. Not only will you learn more about the diverse businesses that make up our economic landscape but you'll also earn Chamber Bucks that can be spent at a local Chamber business once you complete your passport.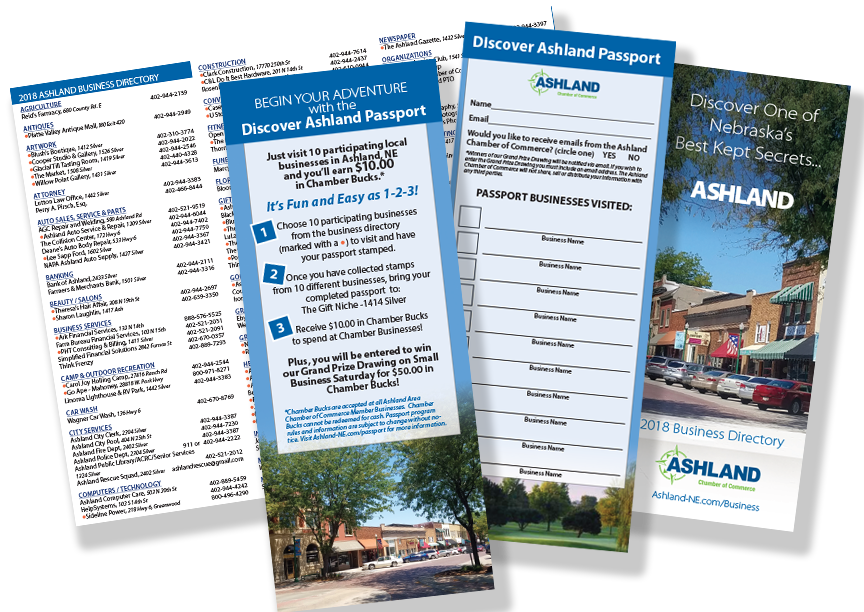 It's Fun and Easy as 1-2-3!
1. Choose 10 participating businesses from the Business Directory (marked with a •) to visit and have your passport stamped.
The 2019-2020 Ashland Business Directory can be picked up from many local businesses or downloaded here to print your own copy.
2. Once you have collected stamps from 10 different businesses, bring your completed passport to: The Gift Niche -1414 Silver
3. Receive $10.00 in Chamber Bucks* to spend at Chamber Businesses!
Once you have submitted your completed passport, don't forget that if you include your name and email, you will be entered into our Grand Prize Drawing on Small Business Saturday for $50.00 in Chamber Bucks!
Winners of our Grand Prize Drawing will be notified via email. If you wish to enter the Grand Prize Drawing, you must include an email address on your passport. The Ashland Chamber of Commerce will not share, sell or distribute your information to any third parties.
Get ready. Grab your passport and GO!
*Chamber Bucks are accepted at all Ashland Area Chamber of Commerce Member Businesses. Chamber Bucks cannot be redeemed for cash. Limit one passport per household. Must be 18 years of age or older to participate. Passport program rules and information are subject to change without notice.
Details and information on the Discover Ashland Passport program is subject to change without notice.