Our Business is Helping Your Business
Begin your business adventure in beautiful Ashland, Nebraska
Have a business? Thinking about starting a new business?

Ashland, Nebraska is the perfect home for your business or organization. As a thriving community with nearly 3,000 residents located halfway between Omaha and Lincoln, Ashland provides a welcoming balance of small town charm combined with big city conveniences for visitors and area business owners. Area businesses include a wide variety of stores, galleries, specialty shops, wineries, restaurants, professionals and services.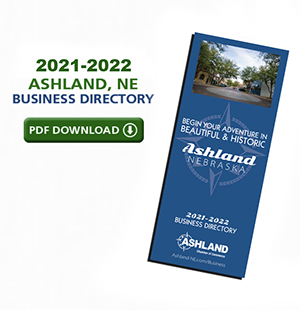 The Ashland Area Chamber of Commerce and the City of Ashland are dedicated to the expansion of local businesses and supporting economic development and growth in the area.
If you are considering starting a new business or relocating an existing business, let us know. We would be happy to assist you!
Ashland Area Chamber of Commerce
P.O. Box 5
Ashland, Nebraska 68003
402-944-2050
Interested in Ashland Chamber of Commerce news?
Click here to subscribe to our mailing list and we'll include you in our informative emails!