Stir-Up Days 2019
Stir-Up Days is Ashland, Nebraska's single largest annual community event. Highlights from previous celebrations include the Stir-Up coronation on Friday night, the Grand Parade on Saturday morning, plus lots of family fun and activities including Helicopter Rides, Historic Tours, Bungee Trampoline, Carnival Games, Beer & Wine Garden and Live Music, and closing with the Car Show on Sunday.
NEW IN 2019: Six NEW Carnival Rides plus the Street Dance is BACK on Saturday night!
For General Inquiries or to host/volunteer for an event please contact Cindy Walsh - email: stirup2018@gmail.com.
2019 Stir-Up Days • Ashland, Nebraska
July 19, 20, 21
2019 OFFICIAL SCHEDULE OF EVENTS
COMING SOON!
*Times and events subject to change without notice.
If you would like to have an entry in the parade on July 20th at 10am, please call Kayla Kobs 402-217-4229 or Doc Cooper 402-944-2478.
Click here to learn more about the Car Show.
2019 STIR-UP DAYS SPONSORSHIP INFORMATION
The Stir-Up is run strictly through volunteer efforts. We appreciate any ideas and hours you can provide to help make this a great event for the community. Thank you to all of our event and monetary sponsors and volunteers who make Stir-Up Days possible. To inquire about 2019 sponsorship opportunities, please contact Karen Stille at 402-944-3505 email: kstille8@gmail.com or Shirley Niemeyer at 402-944-3503 email: sniemeyer2@unl.edu.
All sponsorship payments are due before May 18, 2019. Please refer to the sponsorship form for rules and information.
PLATINUM SPONSOR: $750
• Business Logo will appear on Stir-Up Banners, Saturday and Sunday
• Business recognition at Ashland Car Show on Sunday
• Business logo and a link to your website displayed on the Ashland Stir-Up website
• Business logo will appear on handouts and advertising
• Business announced at Ashland Stir-Up Parade

GOLD SPONSOR: $500
• Business Logo will appear on Stir-Up Banners, Saturday and Sunday
• Business logo and a link to your website displayed on the Ashland Stir-Up website
• Business logo will appear on handouts and advertising

SILVER SPONSOR: $100
• Business name displayed on the Ashland Stir-Up website
Monetary Sponsors Ashland Stir-Up Days 2018:
PLATINUM SPONSORS: Chuck & Shirley Niemeyer, HelpSystems, Round the Bend, Bank of Ashland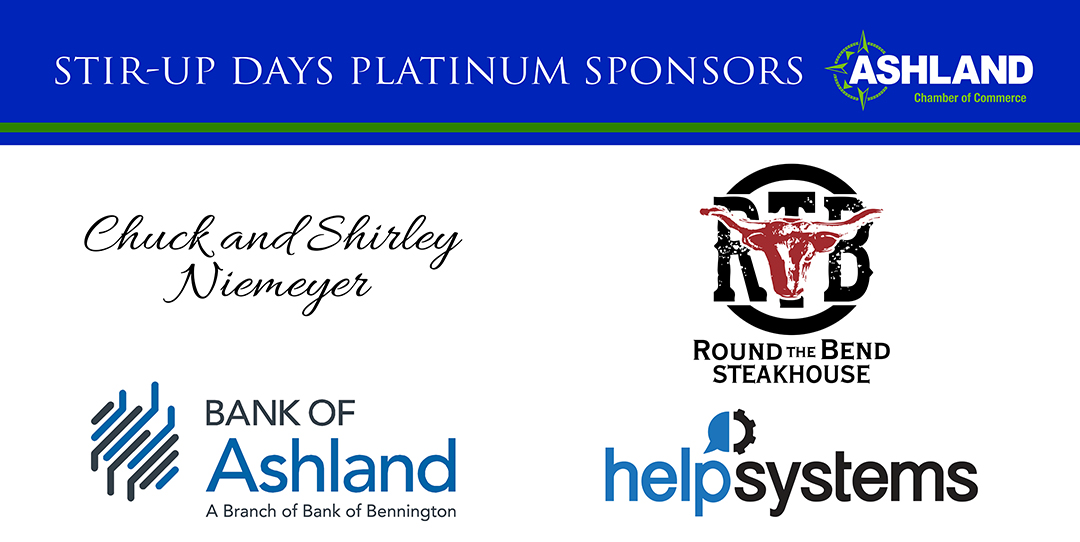 GOLD SPONSORS: Bundy Family Dentistry, Marcy Mortuary, Oxbow Living Center, Real Life Health, Ark Financial Services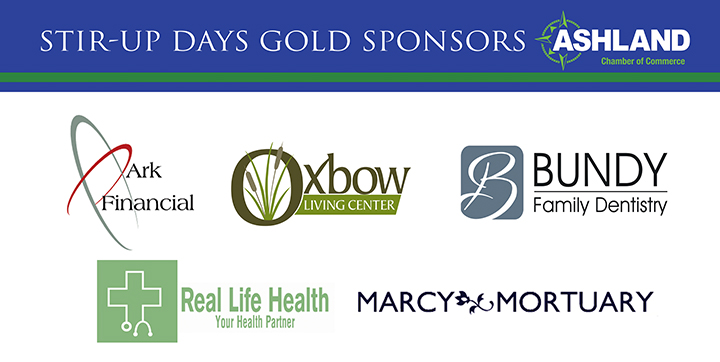 KID'S TRACTOR PULL SPONSOR: Lee Sapp Ford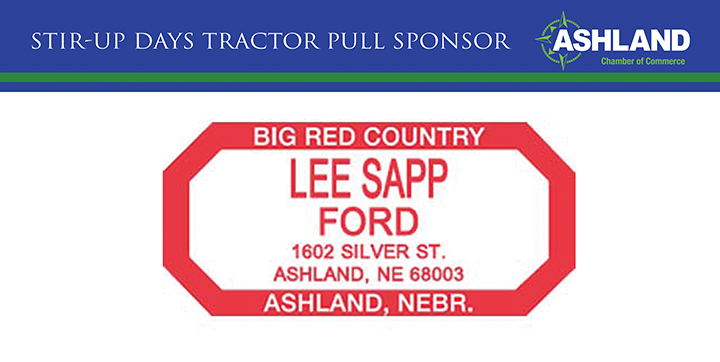 SILVER SPONSORS: Ashland Computer Care, Dan & Pegi Young, Ashland American Legion Post 129, Clark Construction Company, Todd Valley Plumbing and Heating, Anonymous, C&L Hardware, Midwest Physical Therapy, Quick Dump Refuse, Willow Point Gallery, Family Chiropractic Solutions, Casey's, Bill & Sue Palmer, Dennis Beranek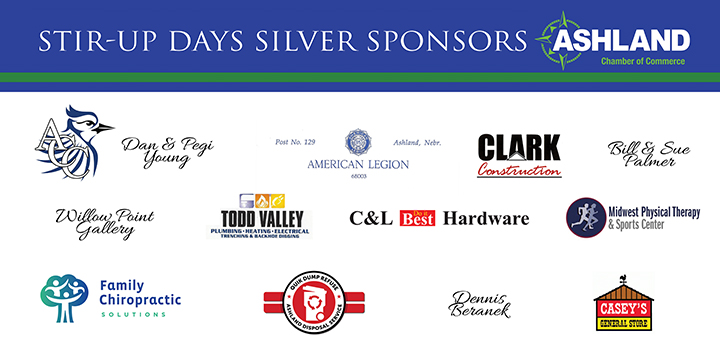 FRIENDS OF STIR-UP DAYS: Randy Beranek